Dimdim out of Beta on December 3rd
By Sean Kerner | November 26, 2008
From the "what does Beta mean anyways?" files:
InternetNews.com has learned that open source conferencing startup Dimdim is set to formally exit its beta period on December 3rd.
Dimdim first demoed their software a year ago at DEMO - and their "Eagle" release came out in May of this year. Dimdim has also recently benefited from the investment of Zimbra founder Satish Dharmaraj.
If you look at the Dimdim offering as it stands today they already have a Free, Pro and Enterprise offering - and in my experience the product is very stable and works. Frankly I don't know anymore what the word "beta" really means since we all see so many Beta's (mostly from Google) that are so good. Remember GMAIL is officially still a Google Beta.
That said the move to be out of Beta is a symbolic move at the very least and shows that the market and technology for open source conferencing is a reality. I don't know what else Dimdim plans on announcing on December 3rd, though it's likely to include some additional features that help to further its mission and its competitive stance. This is a market in which Cisco's WebEx is the giant, so Dimdim will need all the help (and features) it can get.
**UPDATED** 1 PM ET ** Got a comment on this post from Kevin Micalizzi, Community Manager
Dimdim (thnX Kevin!!) that provides some additional details. Click on the "comment" link for the full entry but here's the gist:

We've improved the user interface based on customer feedback, improved
recording & archiving, added some new meeting tools, and my
personal favorite -- we're introducing synchronized web browsing. This
will let you navigate the web from within Dimdim, with your attendees
following along as you click and scroll.
****
**UPDATED ** DEC 3RD**
OK as I expected the release is not out. Officially titled Dimdim 4.5 (codenamed "Liberty") the sync feature is now officially called,SynchroLive. According to Dimdim's release, "the SyncroLive Communication Platform automatically scales its performance to ensure all live communications are synchronized; whether sharing the desktop, webcam, PowerPoint, whiteboard or web pages."
Dimdim 4.5 also has integration with Zimbra (no surprise), Moodle and SugarCRM.
Google Chrome 0.4.154.18 gets bookmark manager
By Sean Kerner | November 25, 2008
Microsoft: Don't blame us, blame the browser add-ons
By Sean Kerner | November 21, 2008
Microsoft to release IE 8 Release Candidate
By Sean Kerner | November 20, 2008
Mozilla revenues hit $75 million - Hello IRS.
By Sean Kerner | November 19, 2008
Mozilla Chief Wrangler Mitchell Baker today reported Mozilla's financial position which shows 2007 revenues of $75 million up by 12 percent from 2006 revenues of $67 million. Though Mozilla is on the upswing, Baker's report shows some areas of potential future financial concerns.
As was the case last year, the bulk of Mozilla's revenues came from a search deal with Google. That deal has now been extended until November of 2011.
As part of the deal Google pays Mozilla a fee every time someone does a search using the default Google Search start page that is included in Firefox.
An interesting thing to note though is that there is not a 1:1 correlation between the user growth for Mozilla Firefox and the corresponding revenue from Google. Baker noted in her report that, "search revenue increased at a lesser rate than Firefox usage growth as the rate of payment declines with volume."
Another interesting item in the report is the fact that Mozilla expenses were up in 2007 by 68 percent over 2006. Approximately 80 percent of Mozilla's expenses come from its staffing costs. What makes this really interesting is that Mozilla even with more paid staffers is still getting the same proportion of its code from external (i.e non-Mozilla) contributions.

"The percentage of code contributed to Firefox by people not employed by
Mozilla remained steady at about 40 percent of the product we ship," Baker reported. "This is
true despite a significant amount of new employees in 2007."


Last but not least, Baker's report reveals that the Internal Revenue Service, the US national tax agency is reviewing aspects of some funds generated by Mozilla. Baker does not specifically use the word "audit' in her report.

"We are early in the process and do not yet have a good feel for how long this will take or the overall scope of what will be involved," Baker commented about the IRS review.

Stress fractures in the Internet by 2012? I'm not so sure
By Sean Kerner | November 19, 2008
From the "the sky is falling" files:
Nemertes Research is out with a report today with some dire predictions about the future of the Internet. They claim that Internet demand continues to outpace growth in network capacity at the access layer, and IP addresses are quickly depleting.
Big surprise.
Internet address depletion - specifically IPv4 has been an issue for a few years with most estimates placing exhaustion in the 2010-12 timeframe. But it's a bit of a myth in my view. Just because there are no more IPv4 address blocks to give out doesn't mean their aren't any more addresses. For one, I've heard from carriers and others that there are a good number of unclaimed/unused addresses that could be reclaimed. Network Address Translation and port forwarding continues to amaze me as a way to deliver traffic to many people from only a single IP address. Then of course there is IPv6 - which is slowly making its way into the carrier network and could be used in a dual IPv4/IPv6 stack to help alleviate any address concerns. So no the address sky is not falling and the internet will not stop working in 2012.
When it comes to bandwidth, the workhorse of modern networks today is either OC-192 or 10GbE. OC-768 (40 Gbps) is a bit expensive and adoption has been slow but it's out there. But by the 2010-12 timeframe Infonetics Research is already forecasting that 100GbE will be gaining big share. That's 100 Gigabit Ethernet and that's a lot of bandwidth (10x the modern workhorse).
So is there a bandwidth crunch?
Of course there is but it will be partially solved by 2012 by 100GbE.
So yes there are issues related to address space and bandwidth capacity that we need to be aware of - but the sky is not falling and there are real solutions to these problems that we can already see today.
Open Source Metasploit 3.2 hits general release
By Sean Kerner | November 19, 2008
PHP Zend Framework 1.7 adds Adobe support
By Sean Kerner | November 18, 2008
85 percent using open source - but still frustrated?
By Sean Kerner | November 17, 2008
From the "1+1=11" files:
OpenOffice more popular than Google Docs?
By Sean Kerner | November 17, 2008
According to a new study of adult U.S. Internet Users on Home PCs, May - November 2008 OpenOffice.org is more widely used than Google Docs.
The study from research vendor ClickStream reported 5 percent usage for OpenOffice and only 1 percent for Google Docs.
So does that mean OpenOffice wins? Not quite.
Use of Google Spreadsheets was 3 percent (so that narrows the gap). Overall Microsoft Office dominated the field for productivity applications with 51 percent for Word and 26 percent for Excel.
Though Microsoft dominates, it's still interesting to see the relative performance of OpenOffice. According to OpenOffice.org, the 3.0 release which came out just over a month ago has had over 10 million downloads since its release. Sure that's still not a huge number for Microsoft - but a non-trivial number nonetheless.
Dell CTO Kettler leaving - Good luck with the BBQ.
By Sean Kerner | November 14, 2008
Firefox 3.0.4 is out fixing some 'neat' flaws
By Sean Kerner | November 13, 2008
From the "weird and wacky ways browser can be exploited" files:
As I noted last week Firefox 3.0.4 is out now (technically late yesterday) fixing at least 9 security fixes four of which are labeled as "critical".
There are (as usual) some flawa that I consider to be really interesting - in that they are attack vectors that I just haven't heard off or seen before. One of them is a Cross Site Scripting (XSS) and JavaScript privilege escalation via a Firefox browser session restore.
I love the Session Restore feature as I'm the kind of user that always has 10+ tabs open all the time. To think that it could be used as a vehicle to exploit me is "interesting" to say the least. According to Mozilla, as a result of that flaw potentially, "any otherwise unexploitable crash can be used to force the user into the session restore state."
Mozilla also provides a fix for a flaw that could have enabled an attacker to steal user information from local shortcut files. Shortcut files?! Really? Mozilla only labels this flaw as "moderate" since they view it as being a little complex to execute. The way the attack would work is that .url shortcut files could potentially be used to read local cache information if the user downloaded both an HTML file and a .url shortcut.
As part of the update Mozilla is also updating Firefox 2.x to 2.0.0.19 though it's clear that the Firefox 2.x's days are numbered. With Firefox 3.1 around the corner (the Beta 2 release is likely next week now with a test day scheduled for Friday), it will soon be time for Firefox 3.x users to upgrade too.
New open source Ingres database coming Nov 18th
By Sean Kerner | November 13, 2008
InternetNews.com has learned that on Tuesday November 18, Ingres will announce its new open source database platform. The announcement is the first big database focused announcement in nearly two years from Ingres.
Did you even know that Ingres was still around?
Ingres is a database technology that some might have thought was a relic of the past. Ingres has a long and storied history dating back to the 1970's at the University of California at Berkeley. In 1994, Ingres was bought out by Computer Associates which owned the technology until 2005 when it was spun out and taken private.
During CA's ownership, Ingres code was open sourced under a CA open license in an effort to help spur adoption. . At the time, my former colleague Clint Bolton called Ingres CA's, "...long forgotten database software." CA tried valiantly to get interest in Ingres at one point offering a $1 million developer program challenge.
In 2006, under the ownership of Ingres Corp, Ingres released its name sake database under the GPL which was one of their last major database release events. So the release on Tuesday November 18th will be a big deal for them.
Whether or not it's a big deal for anyone else is questionable.
In the open source database world I hear and see MySQL and PostgreSQL all the time. PostgreSQL not coincidentally is a descendant of Ingres. Also known as Postgres which literally means Post Ingres, PostgreSQL was born in the 80s by programmers at the University of California at Berkeley. It evolved out of the first Ingres database.
Beyond open source database competition, there is of course Oracle. While Oracle is not technically an open source vendor, they are open source friendly at this point in time. Oracle has its own supported Linux and is active in a dozen or more open source efforts.
That said, Ingres claims that they've got 10,000 customers though which is no small number, so maybe I've been missing something.
Will the new Ingres database make further inroads into the market?
Tough call, since switching databases is no easy feat and the competition is so very tough, as is the current macro-economic environment. Still, it's interesting to see what many see as a name from the past re-invent itself and continue to evolve in the modern era.
Rome Reborn with Google Earth
By Sean Kerner | November 12, 2008
From the "ave atque vale" files:
For nearly 1,000 years ancient Rome was the capital of the Western World and as the saying goes, "all roads lead to Rome." Today some 1,600 years after the sack of Rome by Alaric, ancient Rome is being reborn with the help of Google. Google Earth now has a Rome 3D layer that lets you see the Eternal City as it would have been in the year 320 AD.
In my opinion this is an astonishing piece of work. Google has done other great mapping kind of efforts with the stars, moon and mars but ancient history is a new thing and Rome is the right place to start. Aside from seeing the ancient streets in the movie Gladiator (Maximus! Maximus!! Maximus!!) this is your best bet. I can see it being useful for students of history (casual or professional) as well as yet another example of how Google really is everywhere in both space and time.
The current mayor of Rome is also enthusiastic about the effort. In a post on the main Google blog Gianni Alemanno wrote:

What fascinates me most about this project is the accuracy of the
details of the three-dimensional models. It's such a great experience
to be able to admire the monuments, streets and buildings of Ancient
Rome with a virtual camera that lets you go inside and see all the
architectural details. From the Colosseum to the Ludus Magnus, from the
Forum Caesar to the Arch of Septimius Severus, from the Rostra to the
Basilica Julia, you can get up close to them all.

Sun StarOffice 9 coming November 17th
By Sean Kerner | November 11, 2008
Star Wars vet joins Red Hat board
By Sean Kerner | November 11, 2008
Mozilla Firefox 1.0 turns four
By Sean Kerner | November 10, 2008
ICANN in Egypt. Does it really take so long to get things done?
By Sean Kerner | November 07, 2008
From the "the pyramids weren't built in a day" files:
ICANN ( Internet Corporation for Assigned Names and Numbers) met in Egypt this week to discuss the future of the Internet. It's a future with more security, more domain names and more internationalization.
Wait a sec, isn't that the same future that ICANN has been talking about for the last 10 years?
Things do tend to take time at ICANN in my opinion. The overall confidence in ICANN moving forward is also something that the National Telecommunications and Information Administration - NTIA (that's the US President's
principal adviser on telecommunications and information policy) is questioning as well.
NTIA chief Meredith Baker
addressed the ICANN event in Egypt and made clear her thoughts.

"I have long thought that a stable and independent ICANN could only emerge and succeed if ICANN enjoys the competence of the community it serves," Baker said "Whether ICANN enjoys such confidence is yet to be proven."

Mozilla Firefox 3.0.4 update coming November 12
By Sean Kerner | November 07, 2008
From the "it pays to be a beta tester" files:
Mozilla is set to release Firefox 3.0.4 on November 12th. The first builds are now available for beta testers.
Firefox 3.0.4 is a stability and security update for Firefox 3.0.x - though at this point Mozilla has not yet issued any public security advisories on what the security issues are that 3.0.4 fixes.
Personally I haven't see anything on the public security lists (a good thing) - which means that (as usual), Mozilla is keeping a tight lid on letting potentially damaging security information leak out early.
The 3.0.4 release is likely to be out a day after Mozilla releases Firefox 3.1 beta 2 - which could be interesting. I wonder if there are issues fixed in 3.0.4 that are also dealt with in the 3.1 branch too.
SCO bringing Caldera back
By Sean Kerner | November 07, 2008
ReactOS 0.3.7 keeps open source Windows open
By Sean Kerner | November 06, 2008
Opera patches browser for history search flaw
By Sean Kerner | November 05, 2008
OpenBSD 4.4 - the Source Wars
By Sean Kerner | November 03, 2008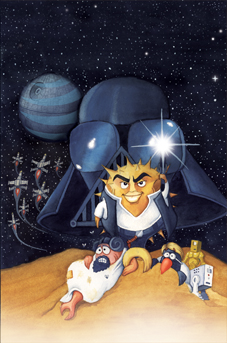 From the "source wars" files:
Every *nix type of OS has it's own little logo and a story to go with it. The image accompanying the OpenBSD 4.4 release is a bit different though, with a take on a classic Star Wars poster from 1977 (I've copied a thumbnail on the left - click to see the full image on the OpenBSD site).
But wait there is more!
OpenBSD goes a step further with the official song for OpenBSD 4.4 (yeaah they've got a song too) is - Trial of the BSD Knights which is hilarious. It basically recounts the good fight of BSD against the Evil Empire.
So being a good Star Wars fan myself let's compare the OpenBSD Rebellion to Luke Skywalker's Rebellion. Like the members of the Star Wars Rebellion, the roots of OpenBSD lay in the earlier BSD Unix which like the Republic in Star Wars was a source stability for a period of time (arguably in both cases). Yet just like Master Yoda told Obi Wan Kenobi in Empire Strikes Back - 'there is another..".
In this case the 'other" isn't Princess Leia it's Linux.
BSDs in general and OpenBSD in particular have not had the same level of attention (in the media and elsewhere) as Linux or the remaining proprietary Unix's (HP, IBM and Sun). A lack of a big entity with $$ to push the message has always been a problem. Then again, Linux has benefited from OpenBSD too, most notably from the OpenSSH project which is core to OpenBSD.
Ben Kenobi also famously said in Star Wars that,"... the Jedi Knights were the guardians of Peace and Prosperity in the Old Republic until the Dark Times, until the Empire."
Were BSD devs the equivalent of the Jedi Knights in the early days? Maybe. But times have changed much and the Empire that the early BSD devs fought against is not the Empire that current open code developers fight against.
Still all good fun to think about. OpenBSD 4.4 is a solid distribution and continues to fight the good fight against the Empire (however you choose to define it).
Recent Entries
Monthly Archives